How's THAT for a combo...So first, the wedding update. So you thought I had figured out what to do about the gift yesterday afternoon, right? Well, so did I. But unfortunately, so did someone else who evidently had the same brilliant idea that I had about the W-S basket. When I got over to the "Purchase Items" page, someone else had just purchased MY items! All of them! I couldn't believe it.
This, of course threw me for a stem-winding loop. I had to start over from scratch. And after many agonizing hours searching WHAT WAS LEFT of the bridal registries and the Tiffany's catalog, I was still basically back where I had started earlier in the afternoon. And at 1 am, I gave up and went to bed...
This morning I got a surprise call from The Bride (who, prior to this morning, I had spoken to twice--EVER! Once when we met this summer, and once yesterday when I called her about "wedding stuff" that I suspected My Best Friend might not be remembering to pass along. I was right--he hadn't). She had been able to secure a room at the wonderful Eo Inn for me (where I had wanted to stay, but at $150/night, I KNEW Hubby would have a coronary) for $69/night! Her company manages the property, and she talked them into giving me a King Deluxe Room with a balcony overlooking Lake Eo for less than the price of a room at Days Inn. Yep. I'm thinkin' she and I may be best friends, yet.
And while things were going so well on the phone, I just cut to the chase. I told her that I had planned on giving them something from a store that they had not registered with. However, they had so many nice things on their registry that I thought they might prefer that I would give them something from there. So I asked her if there were things on their registries that they were REALLY hoping to receive. She replied, "The thing that would mean most to us would be something that YOU chose yourself. We've lived on our own for a long time and we aren't really in NEED of anything. But lots of people prefer to buy from a registry, so we gave them a few choices. But I know that what ever you choose for us, we'll love." Just like the movie, right? Yeah. AND she's a sweet blonde, just like Cameron Diaz....
So we talked about the kind of entertaining they do, and what sorts of "themes" run through their china patterns. After talking to her, I have chosen to give them the
Williams-Sonoma Salad Scissors
and
Rolling
Mincer that they registered for (along with a salad dressing cookbook and a dressing cruet that the salesman talked me into), and the
Tiffany's Bamboo Salad Bowl
and
Vegetable Bowl
that I was leaning toward yesterday. I think that these bowls work with their
Deruta earthenware
and with their china. AND, there is now a Tiffany's in Orlando, so they can switch them easily to another design if they choose. So, with the the sets of pillowcases that I've already monogrammed for them, I think the gift issue is taken care of.
And now that y'all have helped ME solve MY Dilemma of the Day, I'm gonna help you out with yours...
like finding an updated and practical solution to your "What to Wear In THIS Weather" dilemma... Not much of a leap! Moving from my big Dilemma to yours...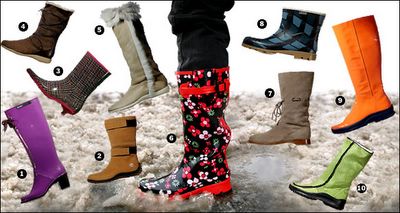 Photographs by Tony Cenicola/

The New York Times

:

Click to enlarge
Here in the Tundra, snow boots are a necessary piece in every woman's wardrobe. However, that's not usually the case in other regions of the country. If this year's slushy weather has taken YOU by surprise, it's not too late to find stylish boots to keep your feet dry--AND your style quotient rising. Check out these boots from an article by Ellen Tien in the January 23 New York Times Style section. And you don't have to break your budget. At this time of the year, you can find similar styles deeply discounted at your local retailers...
1. Purple boots from Marc Jacobs have a sturdy rubber heel and a drawstring to pull them tight against the rain; $110 at Saks Fifth Avenue.
2. Light brown Timberland boots in waterproof suede have a cotton lining and the mod look of Hogan at a third the price; $120 at Lady Foot Locker stores.
3. Tamara Henriques has recast the wellie as a kitten-heeled boot in springy pink plaid; $118 at Olive & Bette's in New York (646) 613-8772.
4. Waterproof leather boots have wraparound laces, a fleece lining and rubber bottoms with a slight heel; $198 at
anthropologie.com
.
5. A shearling version of seven-league boots, these have rubber soles and a water-resistant finish
that will stand up to puddles; $425 at DKNY stores.
6. Floral-pattern garden boots by Tamara Henriques work just as well on city streets; $118 at
oliveandbettes.com
.
7. Nubuck hunter boots are supple yet sturdy enough to slog through melting snow, with a water-resistant coating and rubber soles; $625 at Jimmy Choo boutiques.
8. Rubber ankle boots by Orla Kiely have a coffee-cup graphic and a warm, fuzzy lining; $74 at Gatsbys in Great Barrington, Mass., (413) 528-9455.
9. Orange patent-leather zip-up boots by Bogner offer eye-popping style and pebbled rubber soles for traction; $498 at
http://www.searlenyc.com/
.
(I wear these, but in black--AND I got them on clearance for $79).

10. Waterproof "hair calf" boots by Diabolezza have a pony-skinlike exterior, a fleece lining and rubber treads; $398 at www.searlenyc.com.ted to share this collection from The New York Times
(Note: Don't forget to check out the post below about submitting your Tall Poppy stories and snippets so I can link to you next week. I need to receive them by e-mail by Sunday. THANKS! )