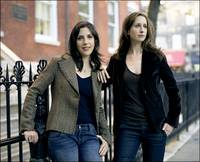 Nicola Krauss and Emma McLaughlin
Authors of "
The Nanny Diaries
" and "
Citizen Girl
".
Photo by Klauss Schoenwiese for the
New York Times
I generally keep the romps through Tall Poppy Diaries pretty light. I want TPD to be a comfy haven for all of you fabulous Tall Poppies whose savvy and 'wonderfulness' might be unappreciated and even undesirable in lesser company. Here, we can enjoy, with wreckless abandon, fun and sassy discussions of all sorts of seemingly inconsequential matters without fear of rebuke. After all, we understand the importance of such "trivial" matters, now don't we?

Yet, today I felt a call to action on behalf of two Tall Poppies who are under attack. Yes, it's ugly. We've all been there. You get a little attention... or popularity... or fame... or fortune... and envious Weeds start lining up to chop and choke you back down to size. They don't believe you've earned the right to be who and what you are and they are willing to go to great lengths to prove that to anyone with half an open ear.

This NYT article
ensured that I would be buying the new book "Citizen Girl" by the same dynamic duo that brought us "The Nanny Diaries". (I print the article here in it's entireity because I don't want you to miss a word, and because the NYT makes you give it ALL up just to read a link). These young women aren't trying to be anything they're not. What they are? Authors of an international best-seller. What they're not? "Professional writers"...by their own admission.

So, I pose this question: If a writer (or writing duo) makes it big with her first novel because she is clever, witty and oh-so-fabulously mysterious, should a group of envious (and "more experienced") writers and journalists be allowed to determine the fate of the less experienced but more marketable writer(s) just because said writer hasn't "paid her dues"?
I, for one, don't think so. And I plan to let my voice be heard in the only "review" that really matters--the open market. Read the following and let me know what YOU think....


The Post-Nanny Diaries
By ALEX WILLIAMS

The New York Times
Published: November 21, 2004

It is not that a few people out there aren't hoping that "Citizen Girl" tanks. Let's take a look at the likely suspects who just might be rooting against this book, the much-anticipated follow-up to "The Nanny Diaries" by Emma McLaughlin and Nicola Kraus.

First, there are all those Park Avenue mothers who thought they had enough to worry about with the help before the publication of "The Nanny Diaries," a juicy, tell-all novel. Now they have to worry about getting the au pairs, nannies and maids to sign agreements forbidding them to reveal household quirks. Then there are the legions of underpaid journalists and neglected authors, who are sick of hearing about how two young nannies produced a nationwide best seller and, as if that weren't enough, went on to win the literary lottery: a seven-figure deal for their second and third books and a $500,000 movie deal from Miramax.

Dazzled by their fortune, the two authors seemed to transform from Cinderellas to prima donnas, firing two literary agents and their publishing house, St. Martin's. "You could almost hear the words `sophomore effort' within seconds of `Nanny' hitting the best-seller list,'` Ms. McLaughlin, 30, said wearily, seated in a conference room at the Midtown headquarters of their current publisher, Simon & Schuster. "There was this schadenfreude already," piped in Ms. Kraus, also 30. "How could we do it again? We're not novelists." She later added: "At the end of the day Emma and I wrote a book about 4-year-olds. It's funny that we invited a level of scrutiny as if we were slumlords."

The scrutiny is not likely to stop now. "Citizen Girl" was already in its second printing before it hit the bookstores on Tuesday, so strong were the advance orders. But the pre-publication talk was far from ideal. "A royal bore," Entertainment Weekly called it. USA Today speculated that the authors could come to define the term "one-hit wonder."

Was it really only two and a half years ago that Ms. McLaughlin and Ms. Kraus, who met in a theater history class at New York University, were compared to Dorothy Parker in Time magazine? Since that brief moment of rave reviews, the darlings of the book industry have been poked, probed and dissected by the unforgiving New York literary world. No sooner had they handed in a manuscript for "Citizen Girl" than the news media were crackling with rumors that it was a mess, and that the nonwriter writers were soon to be exposed as precisely that. The authors have a ready-made response to the critics: We wrote the book we wanted to write. Now, let our public decide. "This was just something we felt incredibly passionate about," Ms. Kraus said, "to the point where we looked at each other in the eye and said, `O.K., if we never do another thing, if this is our swan song, we need to go to our graves knowing that we put this out there.' "

"Citizen Girl" bears a certain similarity to "The Nanny Diaries," although that book was written largely in e-mail dispatches between the authors over several months, mainly because each was so busy working at other jobs. With "Citizen Girl," the two actually had the freedom to sit side by side at a computer to write for substantial stretches. Like "The Nanny Diaries," the new book is a pointed social satire about wry young women with integrity dropped into a swirl of Manhattan money and ambition.

In this case the protagonist, the generically named "Girl" (just like "Nan" in "The Nanny Diaries," except that this character seems to represent an entire generation of young professional women), hits the town after graduation looking to put her ivory-tower feminist ideals to good use at a nonprofit women's organization, but ends up landing a dream job at a ruthless new-media company that sells out its original feminist mission and eventually women themselves.

Most of the early reviews have been tepid, but that in itself is not fatal to the book's chances, said Daisy Maryles, executive editor of Publishers Weekly, the trade magazine. The first book, after all, was the quintessential word-of-mouth sensation. "People who read the other book are going to try this one, and if they like it, going to pass it on to friends," Ms. Maryles said. "But first-book sales don't always guarantee second-book sales." For one thing, the new book does not have the built-in publicity hook of the last one. From the first appearance of "The Nanny Diaries," the media couldn't get enough of its back story: poor put-upon worker bees finally find the courage to sting the queen bee.

After "Nanny Diaries" hit, tell-all books on imperious, if stylish bosses, were the rage ("The Devil Wears Prada," inspired by the author's stint as an assistant at Vogue; "How to Lose Friends and Alienate People," a revenge memoir by Toby Young about life at Vanity Fair).
Along the way to selling more than two million copies worldwide in hardcover and paperback, "The Nanny Diaries" spawned a parlor game of sorts, where members of the Upper East Side peerage tried to guess the identity of the real Mrs. X, Nan's employer. (The authors insist all the characters are composites.)

The Nannies, as the authors may forever be called, may have been a bit overmatched for instant money and fame, but they seem to have wasted little time in learning to swim in those waters.
Starting from the moment in 2000 when their first agent, Christy Fletcher, secured for them a $25,000 advance from St. Martin's Press for "The Nanny Diaries," they went into overdrive. They soon dismissed Ms. Fletcher for a new agent, Molly Friedrich, and less than two years later, after the success of "The Nanny Diaries," they left Ms. Friedrich for Suzanne Gluck, a senior agent at the William Morris Agency, who helped them win the two-book deal with Random House, which the authors say was for $2 million.

Soon after they signed the deal, Ann Godoff, Random House's president and publisher, was dismissed from the company. As a new regime tried to figure out what to do with the project, disagreement festered. Accounts of rejected manuscripts made their way into the press, where the authors were portrayed as divas, demanding hair appointments before each promotional appearance. The same image that had made them easy to market in the first place — they're not writers, they're nannies — made them easy targets. While they had worked as nannies for more than 30 couples starting in their teens, continuing through college, each had another career when they began writing.

Ms. McLaughlin lives on the Upper West Side with her husband, Joel Gibson, whom Ms. Kraus introduced her to. She grew up in Rochester, a daughter of a philosophy professor and a landscape designer. Ms. McLaughlin said she had a job as a business consultant when she and Ms. Kraus started writing the first book.

Ms. Kraus, who is single and still lives in the same East Village apartment she did when "The Nanny Diaries" was published, grew up at 1000 Park Avenue. Her parents run Ursus Books and Prints, which sells art and antiquarian books in the Carlyle Hotel. She attended the Chapin School, and when she began "The Nanny Diaries," she was trying to start an acting career while working in advertising.

After publication, "people were expecting 21-year-old nannies, and we were 27-year-old people," Ms. Kraus said. "Emma was starting her master's at Columbia at that point."
Of the problems with Random House, Ms. McLaughlin said, "They essentially wanted `Nanny Diaries 2.' " With so much money at stake, the writers were quick to learn that commerce took precedence over art. They would sit in a boardroom with an editor and directors of marketing and promotion. Each, Ms. McLaughlin said, had equal say on the book's direction. After several efforts to rework the manuscript of "Citizen Girl," the two sides reached a dead end. The publisher, the authors say, found much of the material-- prostitution, corporate downsizing, Internet pornography -- too dismal for a "Nanny Diaries" audience. But the authors insisted on writing a book they felt captured the hazards facing professional women in the "post-feminist" workplace.

"We don't want to go into detail," Carol Schneider, executive director of publicity for Random House, said. "But we didn't publish the book because we reached an impasse on editorial matters." The deal eventually unraveled, and as Ms. Gluck, their agent, said, the authors "voted with their feet," deciding to shop the manuscript elsewhere. (While the authors will not discuss the details of their settlement with Random House, it is customary for authors to give back whatever money has been paid out if a book is rejected.)

Ms. Gluck offered the manuscript to a few different publishers, and Atria Books snapped it up for a more earthbound sum, $250,000 — split two ways of course. While the money was most welcome, both authors said they found the perception that they were wallowing in riches rather amusing. The primary thing they have been able to afford is the freedom to write full time, they insist.

"Both of our parents are very frugal; they really drummed practicality into our heads," said Ms. Kraus, who lists a new computer and two Maltese terriers as her major splurges. They apparently hope to settle into a long-term home at Atria, as well. "It was love at first sight across the gym at the prom," Ms. Kraus said.

Atria executives sounded nearly that happy, too, both with the book and with their authors.
Judith Curr, the publisher of Atria, said that she was aware of the authors' reputation, but that she had found working with both women a delight. From the moment they walked in the door, Ms. Curr said, they've been charming with everyone, from top executives right down to the secretaries. Which matters, Ms. Curr remarked.

"You can often tell a lot about people in how they treat assistants," she said. Ms. McLaughlin and Ms. Kraus don't need to be told that.