Thought I'd show you a few of my favorite Halloween Costumes from today's big school parade. For those of you who are worse procrastinators than me, here are a few ideas...
Jack Sparrow--Son #2 takes his role as "The Captain" VERY seriously. I made the vest by cutting up an old green sweatshirt, binding it with black bias sewn on with gold thread, and then added gold buttons on each side (hidden by arms). All I bought (from the party store) were the hat and boot covers. With my blouse, jewelry and makeup and his sweatpants, we were good to go!
Son 1 and Son 2--Son 1 really does have eyes, I just wasn't much of a photographer at 7 am this morning. This year, Son 1 (who, by the way, looks TOTALLY different than normal with the glasses on...) got a new robe and a Hedwig to be HP for the fourth year in a row. Son 2 is STILL taking his role seriously....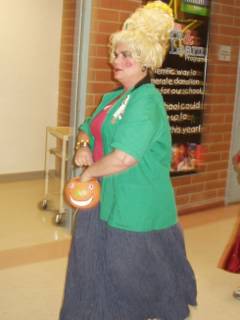 Bernice, The 7-11 Cashier--Son #2's 2nd Grade Teacher. You can't help but love someone who will do THIS...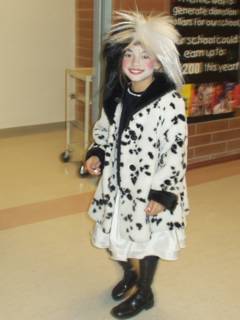 Cruella DeVille--This is the best Cruella costume I have ever seen...The pic doesn't do it justice.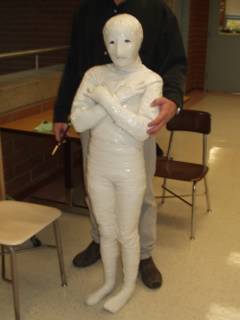 Egyptian Mummy--This student was obviously inspired by the recent field trip to a major antiquities exhibit. And no, she isn't being abducted--that's her dad standing behind her getting ready to cut away her wrapping.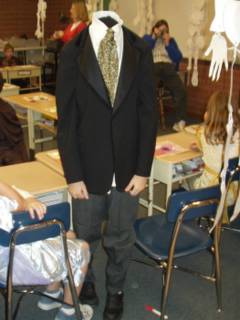 Headless Salesman--Too funny! The tie was see-through--This costume was a hoot to see walking down the hallway. I don't know why the salesman is headless, though--someone not pleased to have their dinner interrupted by a knock on the door?