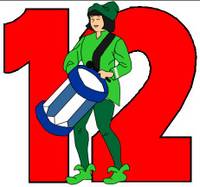 Twelve Hours Filled With Christmas Spirit!

Thanks to YOU!
Eleven Pipers Piping: My Favorite Sources for Cultural and Fashion News: The New York Times, The New York Post--Page Six , The Washington Post, Newsweek, W Magazine, Vanity Fair, Washingtonian, Town and Country, Vogue, US News and World Report, Yahoo! News
Ten Lords A-Leaping--Bloggermouth Ken, Genuine, Kudzu Files, Orient Lodge, Perspicuous Musings, Sigmund, Carl & Alfred, The Moderate Voice, Muzikdude
Nine Ladies Dancing: Always Victoria, Aussie Mama, Bard Sinister, Do You Have That In My Size, Elisa, Jenniy, Magnificent Octopus, Mile High Diva, Sass
Eight Maids A-Milking (with a focus on the "maiden" part rather than other less-than-lovely double-entendres): My Favorite "Mommy Blogs": Been There, Bunny Burrow, Busy Mom, Fighting Inertia, Mad Mommy Chronicles, Purple Goddess, Sands Through The Hourglass, Suburban Bliss
Seven Swans A-Swimming: My Seven Favorite Christmas Carols
Six Geese A-Laying: Six Hours of Creation--of a spectacular Christmas Tree!
Four Calling Birds: Girl From Florida, Sam, Pink Sun Drops and Princessr9
Two Turtle Doves: Invisible Poppy and Orange Poppy (who sit around and look pretty, but add surprisingly little to the conversation)
And A Partridge In a Pear Tree! MOI'!

Oh, and did I mention he left me a year older, too?
Twelve Days ago, I began this series of posts in hopes of getting my act together, finding my inner Christmas Goddess, AND helping all of you find your own Holiday Spirit. I can honestly say that, from my end, this little project has been a rousing success. There are still things I wanted to do, but won't. There are other things I needed to do, and still will. And still others that I Did Do but shouldn't have (but they were WICKEDLY fun, nonetheless. All except for that embarrassing case of Verbal Diarrhea on the phone on The Tenth Day. Not. Good.)
I have had SO MUCH FUN with the "spreading of Christmas cheer" angle. I can SO see why Michele is always so giddy! I mean, she does this EVERY DAY! Oh, it's fun. And I LOVE it when all of my friends meet one another. I have seen all of your blogrolls grow (except for SC&A--they are SOOO persnickity that way), and that's a good thing!
After Christmas, it'll be back to the drawing board, searching out those fashions, trends, current events, etc. that YOU need to know about to help you stay at the top of your game. PLUS, I am going to do lists of some of my favorite styles, trends and stories from 2004--And, of course, some of the biggest misses of the year, as well. So if you have some favorites to add to EITHER list, please feel free to comment now.
And, finally, that poor little Charlie Brown tree that has always looked like a sorry joke in our front hallway? 'Tis a joke no longer. You will be astounded at it's loveliness with all of your ornaments adorning it. There WILL be a picture of the tree posted here tomorrow--with a surprise or two! So be sure to find a moment to stop by and see yourself in all your sparkly glory. And those Leapin' Lords? Just WAIT until you see them leaping about in their tights and knickers! D-e-e-e-elightful!
And now (drumroll please...), on to the Incredible Shrinking Lists...

Things I Should have done yesterday, but didn't:
Put in ALL of my nominations for the BoB's.

Get the "Girlfriend Presents" delivered.

Spent a little more time blogging. But I was up until 3 am wrapping gifts and baking. STILL unable to eek out more than 24 hours out of every day. Hharrumph!!!
Things I actually DID get done yesterday (FINALLY):
Wrapped ALL of the Christmas presents

Had our family shopping day.

Got Daddy home from the hospital.

Made more 12 Days Ornaments!
Things I DID yesterday, but shouldn't have:
Stayed up until 3 am the night before I have to stay up until 3am. V. Bad. Plan.
Things I have done today:
Got showered and dressed.

Took Daddy his medicine AND his dry cleaning.

Played nurse to Daddy without making ANY snide comments.

Washed the rest of Daddy's clothes.

Washed some of OUR clothes.

Did more shopping.

Wrote this post.
Things I have not done today, but (must) should:
Submit the third installment of my nominations for the BoB awards.

Make ONE "12 Drummers Drumming" Ornament

Clean up disaster left by tree decorating that is STILL in the living room. Unsightly!

Deliver "Girlfriend Gifts".

Figure out what treats we will be eating this evening.

Figure out what we will be doing for Christmas Dinner tomorrow.

Have a really fabulous, memorable Christmas celebration with my family and friends. That includes YOU, of course.... MERRY CHRISTMAS!!!